MALENA BANKS, MD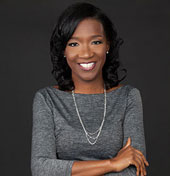 Malena Banks, MD is committed to combatting the stigma of mental illness through advocacy and education. Throughout her career as a practicing psychiatrist, she has been a staunch supporter for her patients and their families, providing education about behavioral health illnesses to reduce stigma and promoting wellness practices to improve patients' physical and mental well-being. Although insurance companies may push psychiatrists to focus on medication management, Dr. Banks takes a conservative approach to treatment, listening first, then developing a comprehensive treatment plan in collaboration with the patient. Her commitment to mental health extends beyond her practice: she has also been involved in multiple public health initiatives to enhance the lives of those with mental health diagnoses, especially youth and families from disadvantaged backgrounds.
After graduating with honors from Fisk University, Dr. Banks earned her medical degree from Howard University College of Medicine in Washington, DC, and completed her adult psychiatry residency at Howard University Hospital. She also served as Chief Resident while completing fellowship training in Child & Adolescent Psychiatry at Georgetown University. As a practitioner, Dr. Banks has a decade of experience diagnosing mental health disorders, providing crisis and medication management, treating patients through therapy, and offering clinical supervision.
Dr. Banks is a Double Board Certified Psychiatrist in Adult and Child and Adolescent Psychiatry, with a special interest in health and wellness. She is a member of the American Academy of Child and Adolescent Psychiatry, the American Psychiatric Association and the American Medical Association. She has published on a variety of topics, including biological markers of depression and recognizing and treating substance use disorder in youth with co-occurring chronical physical illness.